Phlox, or as my talk to text likes to spell it on my not-so-smart Smartphone, "Flocks", is a genus of 67 species of perennial and annual plants in the family Polemoniaceae. They are found mostly here in North America in many types of habitats from shaded woodland to prairie. Some flower in spring, others in summer and fall. So, which one do I plant? So many phlox! Or would my talk to text say: "Foxes?"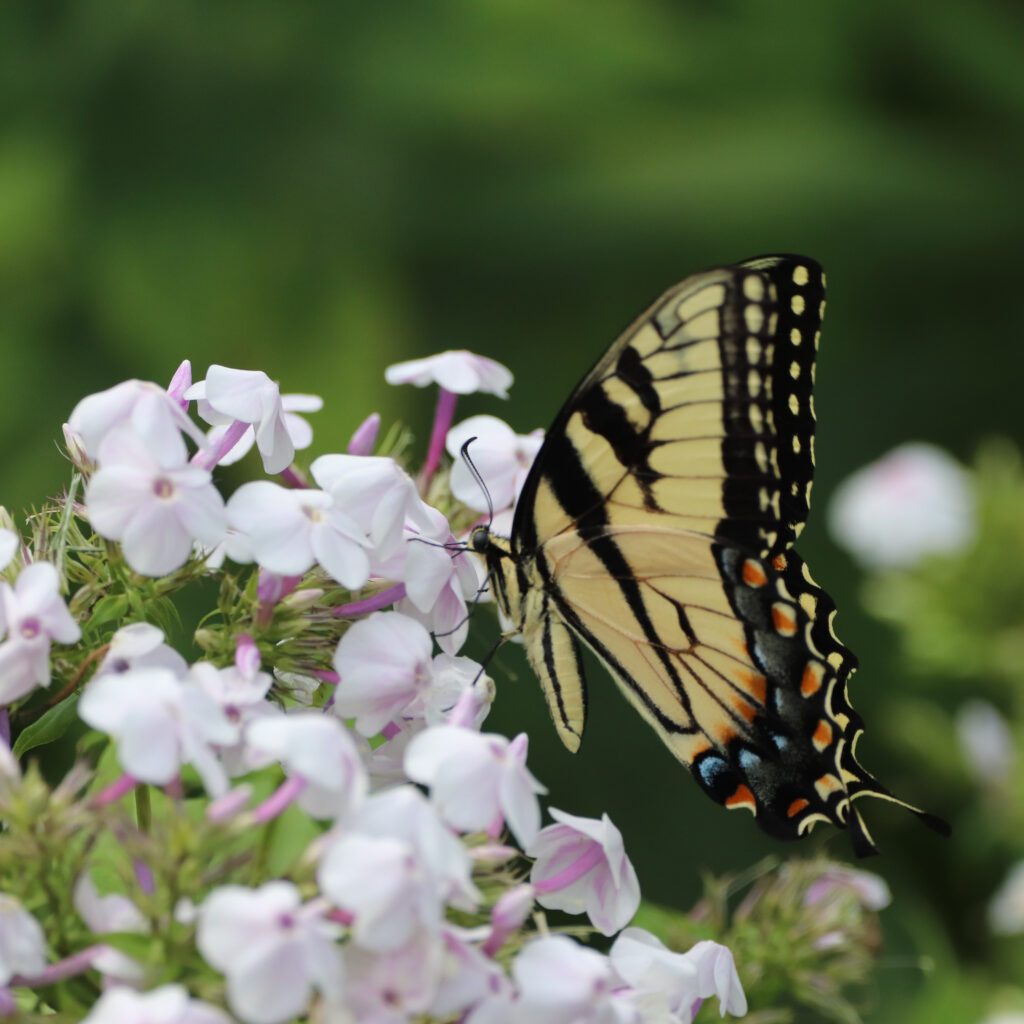 Choosing the Right Plant for the Right Place
There can be some challenges when it comes to planting a native garden. You planted something, you watered it until it got established, but then it died. When getting going with native plants isn't going your way, it can easily be frustrating!
Take for example, the word "phlox". Its origins lie in the Greek word for "flame" or a plant of flaming color. However, there are some variations in what type of phlox. Though that name might imply heat or warmth, some species actually prefer some shade.
Like the bird a "finch" for example can mean many different species. You can have a Goldfinch or a House Finch or a Purple Finch or a Bullfinch. It gets confusing! There are some phlox that like shade. There are some that like full sun. Some bloom earlier in the season. This post will help give you a quick 101 on what phlox might be just right for your location. For reference, I am in Zone 6b, where these photos were taken.
Summer phlox / garden phlox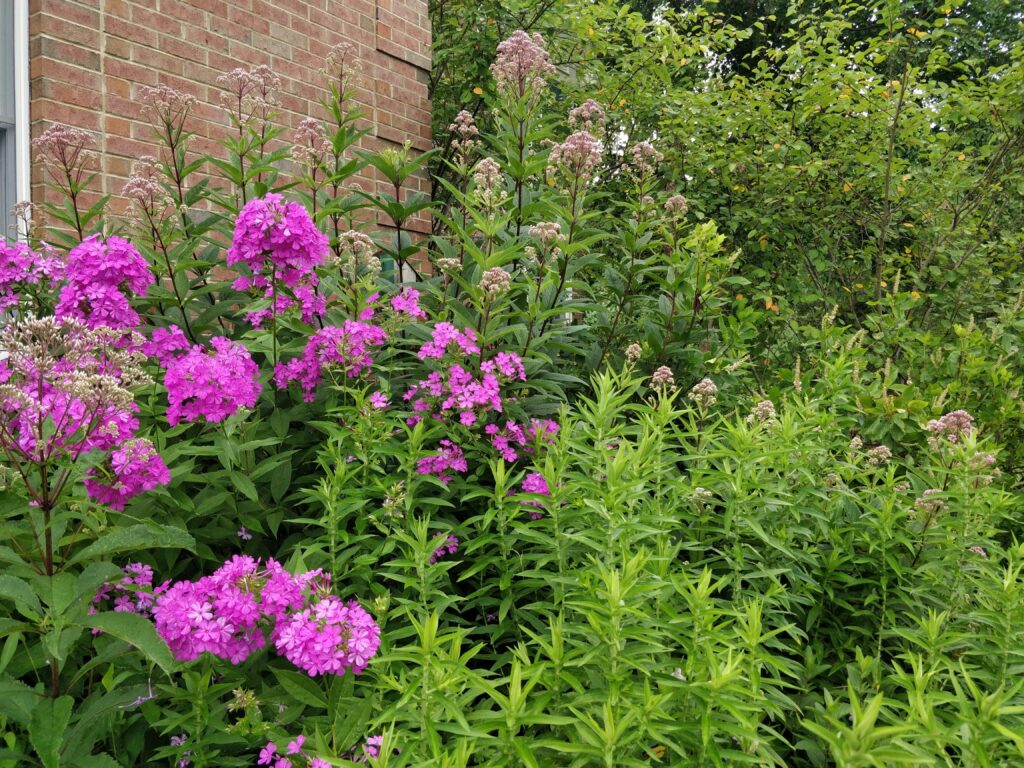 As the name "summer" implies, this phlox likes full sun. Phlox paniculata or Summer phlox, or garden phlox, is a summer show stopper. Pictured above is the 'Robert Poore' varietal. Growing as tall as 5 feet in late July and well into August, this plant loves full sun and butterflies love it too. It is almost Earth Day, and my summer phlox is already knee high! (See below). The blooms can also be white or very pale pink as well, as pictured above with the tiger swallowtail butterfly.
Woodland phlox / wild sweet William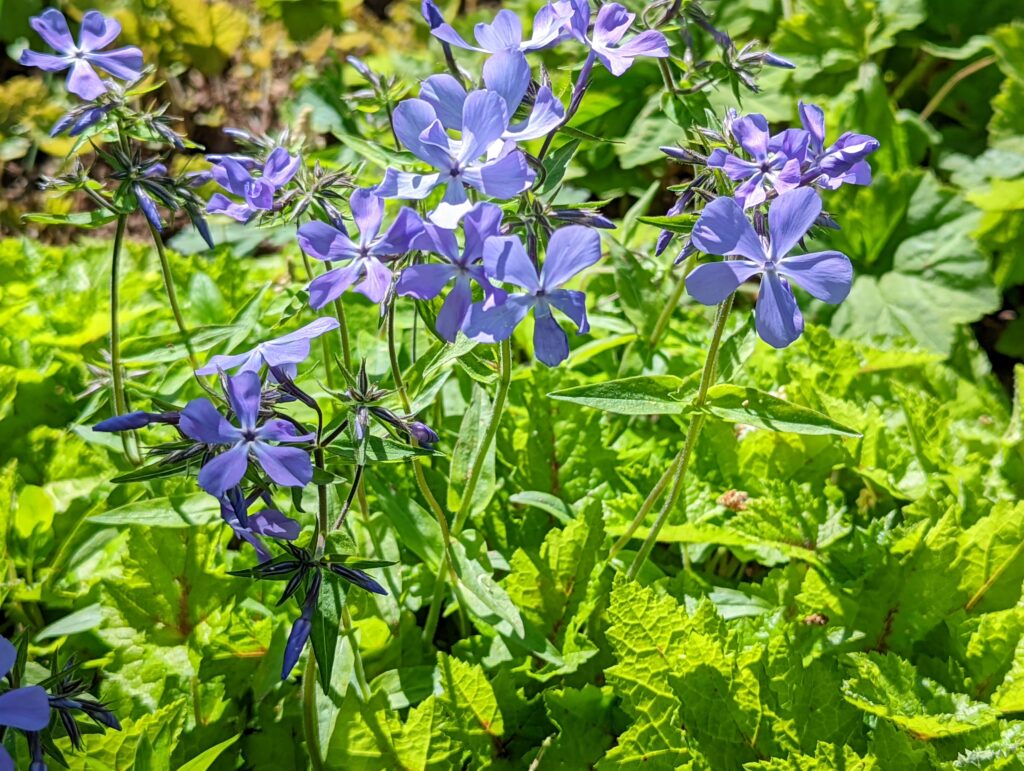 Phlox diverticara or Woodland phlox is an incredibly versatile and hardy perennial, bringing early spring color to shady garden spaces and the edges of woodlands – adding a delicate, 'wildflower' touch with whimsical, airy flowers in pink, lilac-blue or white. They are relatively short, standing only about 6″ tall, and grow in clumps, on super skinny stems. They don't mind full sun in the spring, but as the sun intensifies, they will need shade as the woodland name suggests, and will cease blooming as the summer sets in. The name diverticara actually means "with a spreading and straggling habit". See this document for an A-Z list of botanical names and their meanings. Woodland phlox plants have hairy, sticky leaves and are very unique as budding flowers. (See below).
Prairie phlox
Also known as Downy phlox, Prairie phlox (Phlox pilosa) will grow 1-2′ tall and is a favorite of the hummingbird. Prairie phlox needs it hot and dry (as the name prairie would imply) with little competition. (As in it doesn't like company). I had this in my beds at one time, but it appears to have been out-competed because now it is no longer there. Prairie phlox has deep rose pink blooms and narrow almost needle-like leaves. (Not pictured here)
Creeping phlox
Creeping phlox (Phlox stolonifera) is a low-growing, mat-forming plant. It is usually that first pop of color that happens right after those warm days that occur in spring. It is often seen at the edges of walkways leading to neighborhood front doors. They seem to magically turn brown mulch into something that looks like the Easter bunny left behind. Or they turn strong stony walls into soft pillows of color. Then, after the days become more and more warm, the flowers die back and leave just nice round mounds of green. It is often seen spreading as a ground cover, in rock gardens where it can billow out of cracks and crevices to your visual enjoyment and can be pale blue and violet to purple and even pink as I discovered today on a walk! 
The below bouquet is some spring bloomers from my garden can you spot the phlox? Happy Planting! There are so many types of phlox, but hopefully this small sampling can at least get you going in the right direction.