Adding native plants to your yard will benefit pollinators, birds and add a whole slew of biodiversity. Host plant, keystone species, pocket garden, pollinator islands, and native plants are hot topics. What often gets lost, is how even tiny changes can make a difference. You can begin by starting small, but most importantly, start!
Where do people begin who want to make a difference, but feel overwhelmed by all the choices and confused by names that sound like weeds?!!! Golden ragwort, swamp azalea, New York ironweed and sneezeweed don't exactly conjure up ideas of a lovely garden.
Friends of Hopewell Valley Open Space is here to help you, and now is the time. They are hosting their native plant sale and they have plant packages to help get you started. The packages are at wholesale prices, start as small 10 square feet, and go up from there.
In these native plants, birds can forage, bees can pollinate, and other winged friends flit from flower to flower in search of nectar. The silver lining though is that you too will benefit as well. How? Through non-stop activity providing endless enjoyment. Through the beauty of an entire life cycle unfolding before your very eyes. Through the beauty of a diminutive creature that seeks your yard for a home and for food.
There was a spot on our lawn that always bothered us to no end and it was only about eight feet by three feet. There was no life there, no butterflies landing on grass. It is the area above our septic tank and in mid summer it would turn a dull brown and stay that color. Just that small part, while the lawn around it would stay green. It was an eyesore and a nuisance.
To address this, we decided to plant what we affectionately called, the micro-meadow.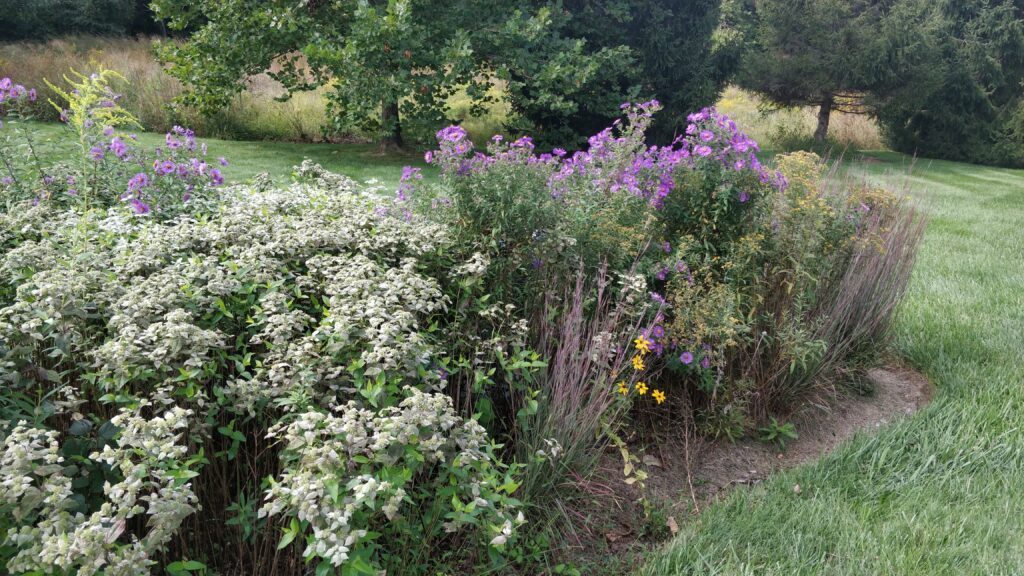 We planted a few natives of mountain mint, some little bluestem, and a few New England asters for some late-season color. Perhaps with the help of the wind or birds, we also got some volunteer black-eyed susans and Canada Goldenrod in the second year. With that mixture in a small space, we had a slurry of activity. And the best part?  We have a pollinator habitat that is bursting with biodiversity.
Below is a video of the small island abuzz with activity.
Insects are a vital part to our world functioning. As E.O. Wilson said: they [the insects] are "the little things that run the world".
It's about time that the media is making something known.
Seeing a blooming flower is pretty. Seeing a blooming flower with a pollinator benefiting from it, is actually stunning. Had we not converted that tiny spot on our lawn to a small pollinator habitat, I would not have captured this lovely summer azure butterfly. It's not much bigger than a nickel, but it is a picture of grace. Native plants and grasses roots go deep, over the millennia, they did this funny thing called adaptation. I don't need to stand out there with a hose watering plants and lawn with short root systems; I stand in my yard with a camera capturing beauty among the native plants in my yard. 
This cabbage white butterfly also fancy's a stopover too.
Read more here about the importance of native plants, as told from an butterfly's perspective at Flutter By Meadows.
Some things to note – 
Only plants listed are available, it is a subset of total availability for our participating nurseries but includes all popular selections and many new species that weren't on our old spreadsheet list. If we receive multiple requests for additional species, then we'll add them for next time. 
Shipping costs are included in the listed plant prices.
Please remember that many woody plants come from a nursery with a 10 plant minimum. You are free to order less than 10, but we'll need to collectively reach 10 among all participants or we'll have to cancel those orders.
We have provided plant packages for different situations. Species were selected to play nice together / complement each other. 
Payment — Place your orders through our website, then I'll check on availability, then we can finalize them together and I'll place the orders. Once orders are accepted by nurseries, we'll ask for payment (early April).
This article first appeared in "The Weekly" March 10, 2021 | Issue 09 by the Friends of Hopewell Valley Open Space as an article in their Guest Expert Series.