Shrubs can offer compact color when space is limited
Forests are majestic any person will say and if you don't have room in your garden for full grown trees, there are alternatives to trees that you can plant in your garden that will still bestow that October glow of color. So while the lawn mower sits away, so too can the leaf blower* because there are some simple ways to add fall color without the whole tree!
The major game changer for fall splendor is the color. The amber glow, the rainbow of change that ignites the landscape. But trees can be huge, and some take a lifetime to grow to full maturity. There are options though, tiny house approved! Some native plants have spectacular fall color, they are compact, stout, and don't require a lifetime to grow!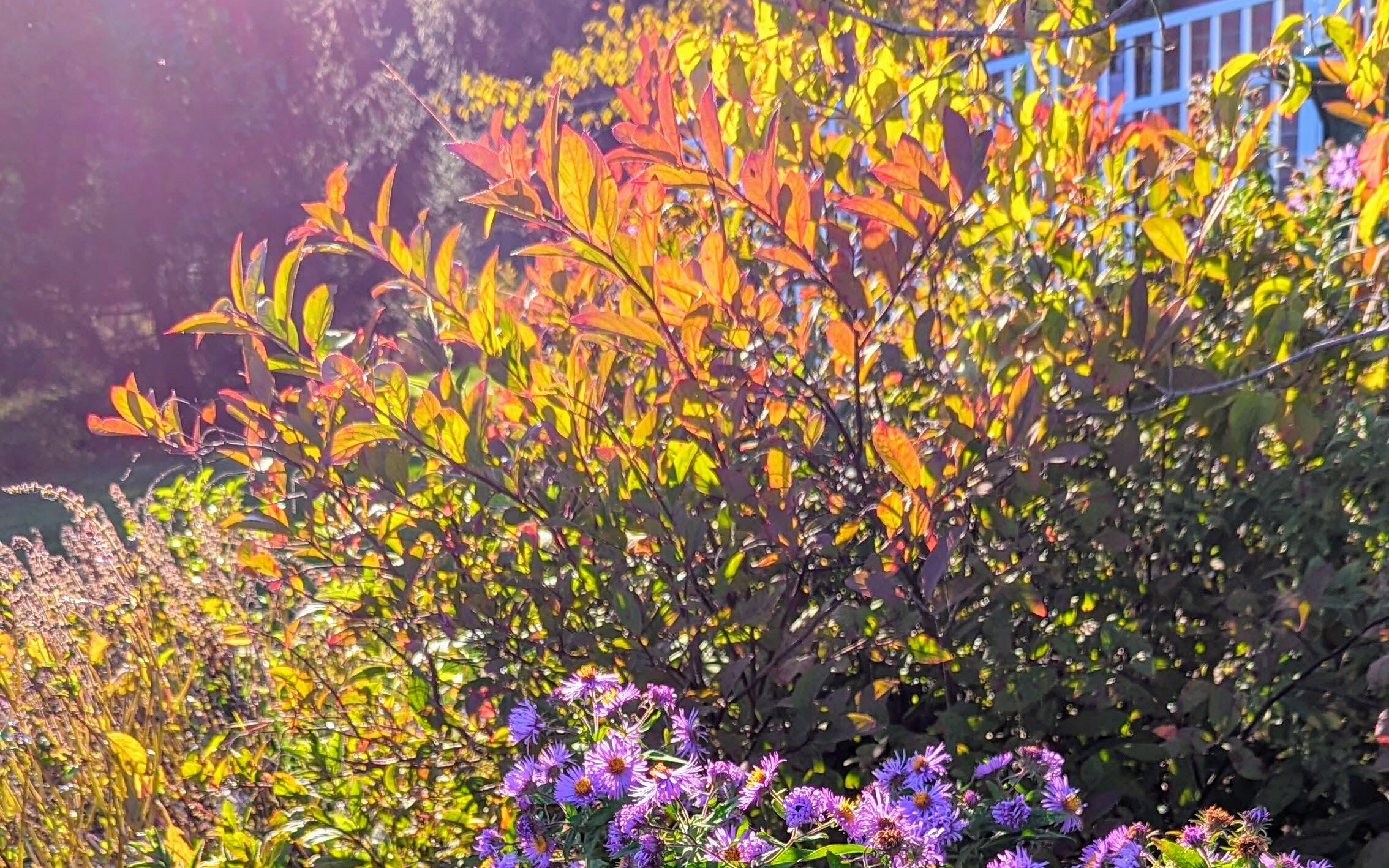 The yellow gold hinting at fire above is a summer blooming shrub that is native to the southeastern US, but can tolerate higher latitudes (we are in the hardiness Zones 6b and 7a). It is Itea virginica, or Virginia Sweetsprire 'Henry's Garnet'. In the "wild" it usually grows in wetter conditions, but can tolerate otherwise, including sun and shade. I have a few of them on my property, and one is in a sunny spot by the driveway, while others are on the perimeter of the rain garden.
This is a most unique shrub, I absolutely love it! It is actually evergreen. (Which means it retains its leaves, yes even in winter). Here'a shrub that prefers a bit of shade in the summer, but look at the color those leaves turn in the fall! They are stunning! Known as coast leucothoe, this relatively slow grower has a bit of drooping habit, with small white flowers in spring and while a dark, leathery green in the summer, this gorgeous shrub really packs a punch of color. I have also been luckily enough never had deer nibble this shrub. Please visit Mt Cuba's site for additional images of this shrub.
Pictured at the top of this post, Cranberry viburnum, (Viburnum trilobum) often referred to as highbush cranberry, is a deciduous shrub that grows up to 15 feet tall. It has maple-like, lobed, dark green leaves that turn shades of red, yellow, and purple in autumn. And provides fruit for wildlife! (Though I have not tried it myself, I hear the ripe berries taste like a cross between red currant and cranberry.)
Hot and dry is how this warm season grass likes it. All summer long it is small compact spiky grass like it belongs on a sand dune. Then in fall when the temps drop, this tall lavender mass of feather dusters springs seemingly out of no where. When the setting sun hits it in late October it is nothing short of well, "spectabilis". We have ours between the hot wall foundation of our house and our patio and it takes the heat without issue. Give it room though, because while compact in summer, the full purple love grass arches over onto our patio and tenderly waves its feathery look. When covered in dew, it pratically sparkles.
"For anyone who lives in the oak-and-maple area of New England, there is a perennial temptation to plunge into a purple sea of adjectives about October."

Hal Borland said it best!
"The color is much later this year." "The colors are less vivid this year." Common conversations always seem to discuss the foliage. Especially in the mid-Atlantic states and New England. Sometimes the leaves seem to change overnight, was that not green just a day ago? My favorite ones are the ones that just start to change color on the crown, while the bottom leaves are still green. But if you can't have the whole tree, plant some shrubs! I have not come across any pumpkin spiced shrubs, yet. But, I do have a hazelnut! That is another lovely native shrub with fall color. Mine has not quite changed its foliage yet which I why I don't have pictures here. American Filbert; Hazelnut (Corylus americana). Now I want some coffee!
*We don't use leaf blowers. We like to leave the leaves where they are for all the living things that use it as a home over the winter.