Spring is in full swing finally at Flutter By Meadows. And what better time than blooming time to highlight a specific plant that is loving this spring air. The specimen: Golden Ragwort (Senecio aureus). Not the most becoming name on the books. It doesn't really roll off the tongue like "lady slipper". The plant is a relatively uncommon perennial. Why it is not more used I am not sure. It produces a bright vibrant yellow flower from spring to early summer that nearly resembles a small daisy. (It is in the Asteraceae family after all.) It likes woodland areas or bogs and can tolerate quite a large amount of water. Hence, the Golden Ragwort has a happy home right at the edge of our rain garden. This landscape point of interest in our front yard was designed and installed by David Hughes of Weatherwood Design.
Note the semi-half circle just above the gray pebbles. By the end of growing season it reaches about 30″ tall. Miraculously, as of the writing of this post…the deer have not mowed it down either. I repeat as of this post. But honestly, I don't think they were eaten last year to the best of my knowledge.
To give you an idea of just how much water they can tolerate, the above picture was taken after a nighttime rain storm in April. The pictures below were taken last September after a really heavy downpour (the Golden Ragwort is in the bottom left of the picture)…perfect for splashing around in your rain gear. By this time of course, the lovely pop of yellow color is no longer there, but still the Ragwort is doing a great job acting as a playful accent to a wonderfully fun puddle garden. Check out the children's book by Jared Rosenbaum.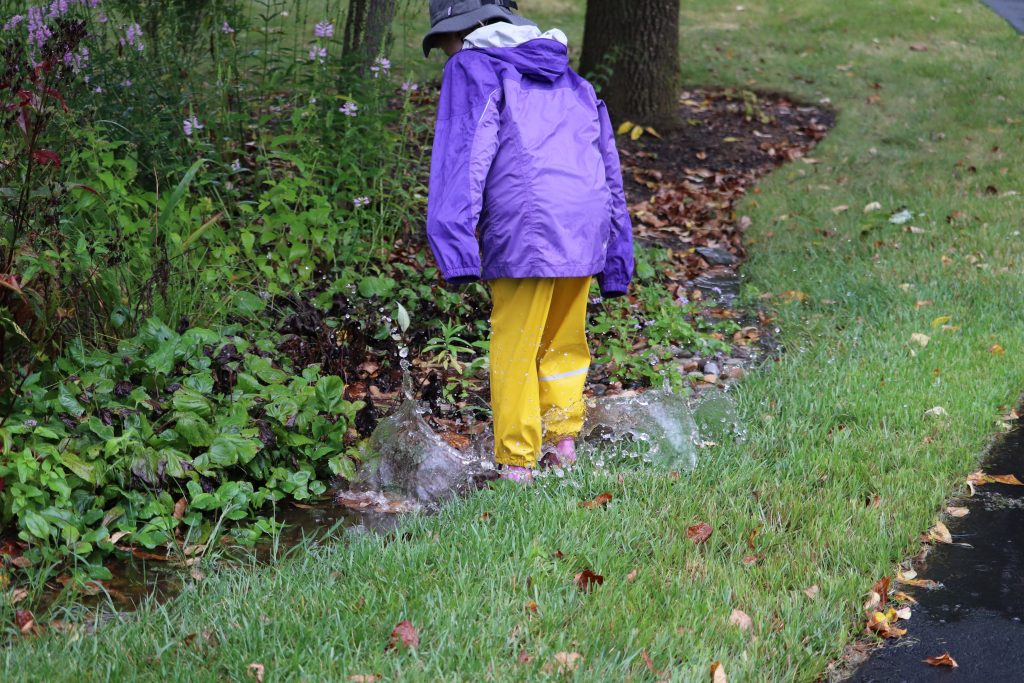 Happy puddles! Rain jacket: Marmot. Rain bibs: Biddle & Bop. Boots: Bogs. Hat: Patagonia. And come back again soon!