Horticulture and Biodiversity Inter-Twining and Thriving
"Close interactions with the wild animals in your yard can bring you the same emotional benefits that are gained from living with cats and dogs."
-Doug Tallamy, Nature's Best Hope: A New Approach to Conservation that Starts in Your Yard*
I have spent countless hours staring out our windows. Sometimes, for me, getting the mail takes 30 minutes. Not because I have a long driveway, but because I get sucked into looking around at everything growing or flying or buzzing around…all because my home is their home.
It was a few years back that I started to notice a particular bird in my backyard. It wasn't long after that, that I began to notice that the bird was making a home for itself and raising its young too. Then I realized that this bird, pictured below…only lives here for a portion of the year at which time it returns to Central America and Mexico for the winter.
The tree swallow came to my yard because it had what the bird needed, the 3 main pillars of survival: food, shelter, and a place to raise their young. They not only mark the arrival of spring to me more than anything else, but I get a quick thrill of excitement watching them March through July. I call them blue angels.
Plants that Give Back
We never set out intentionally to garden for nature, but after a chance encounter with a wildflower meadow somewhere in the back roads of Hunterdon County, my husband set out to transform a piece of land behind our home. Transforming about an acre of plain grass to a wildflower meadow then trickled down to us changing several more areas of our home to native plants.
In these native plants, birds can forage, bees can pollinate, and other winged friends flit from flower to flower in search of nectar. Which I believe is uniquely described as: 
Horticulture
And
Biodiversity
Inter-
Twining
And
Thriving
In the beginning of the school year, my daughter's teacher sent home an outline of the year and one of the things that the students would be discussing throughout the year is this:
"How do plants and animals work together to create the living world around us?"
It thrilled me to no end that kids in elementary school would be discussing this. It is in the minds of the young that the future depends upon. Without a good knowledge base now, how can we expect the future to get any better for the biodiversity that lives with us, among us, and in places that we may not even notice? Children have a natural curiosity toward the natural world. But slowly, that world is being closed off to them. Children haven't lost the desire to explore nature, rather, the doors to the outdoors are being closed off. That for certain needs to change, and we need to make efforts to open the flood gates, not just a door. It is for this reason too that we decided to send our child back to forest school this year after having been back in public school for three years. She is in an outdoor classroom where screen time is replaced with green time at PONS. Leaves and twigs gracefully trickle down out of her gear and backpack to my laundry floor every evening, and I am always finding rocks in her pocket.
Why Garden for Nature?
The truth is, the nature around us has always been here. But we have been slowly pushing it away. By cutting down forests, by increasing the expanse of perfect lawns and by introducing ornamental plants that are not even native to the area!!! Around our property we slowly started building back up the years of damage that had been stripped away. And in so doing, the pollinators and the birds (and the fox, eagle and osprey too) are all finding their way back. Imagine what would happen if each house on my small street planted just a 5 foot by 5 foot square planting area of native plants. Multiply that by how many houses there are…and you have some decent amount of habitat building up.
We added native plant features to our property to help mitigate stormwater runoff (a rain garden) and we then we added a white pine grove… and later added some elderberry, chokeberry, viburnums, red twig dogwoods, and hazelnut. All shrubs that birds frequent for food. Though I would like to try my hand in make a homemade elderberry syrup, I may not beat the birds to the berries! All these features around our home are planted with native plants.
And speaking of berries, as I was writing this blog, I opened the shades in my office. I looked out at the rain garden and I noticed a ton of activity. I race down the steps and grab my camera. There were about 4 or 5 juvenile Cedar Waxwings having a morning feast on the winter berry holly shrub in my rain garden.
Gardening with a Purpose
So in slowly adding in all these "islands of native plants" throughout my yard, this process has created a point of interest which evolves with the seasons to be a haven for birds, bees, and butterflies. But in truth, these habitat islands are not enough. There is more to be done to undo the damage that was stripped away years ago.
In NJ alone, there are approx 2,000 Native Plants, and 480 bird species. So you can just envision the opportunity there.
Growing up in NJ, I didn't think much of myself in terms of gardening, but I paid attention, and I knew enough to know that impatiens like shade, and more importantly how to spell it. But I had little knowledge of invasive vs native, or what birds were here at what times of year. 
But with the addition of our various plants surrounding our home, plus the addition of wildflower meadows which you can read about here, the boom in wildlife was certainly a welcome addition and I slowly became passionate about how my property was changing. And I want other people to share the same benefit and thrill I see every time I look outside.
We had some hostas and russian sage back when we bought our house. Fairly standard, contractor grade plantings. It was relatively low maintenance, save for the occasional weed, but the biological impact was zero. There was no movement, no life among the shrubbery.
One of the things that became very clear to us as homeowners was that gardening with a purpose … one that is both beautiful and beneficial to birds, butterflies and bees will enhance the enjoyment of what you see. Seeing those Cedar Waxwings was one of those moments. Or watching a butterfly feed on a native plant is another one of those moments.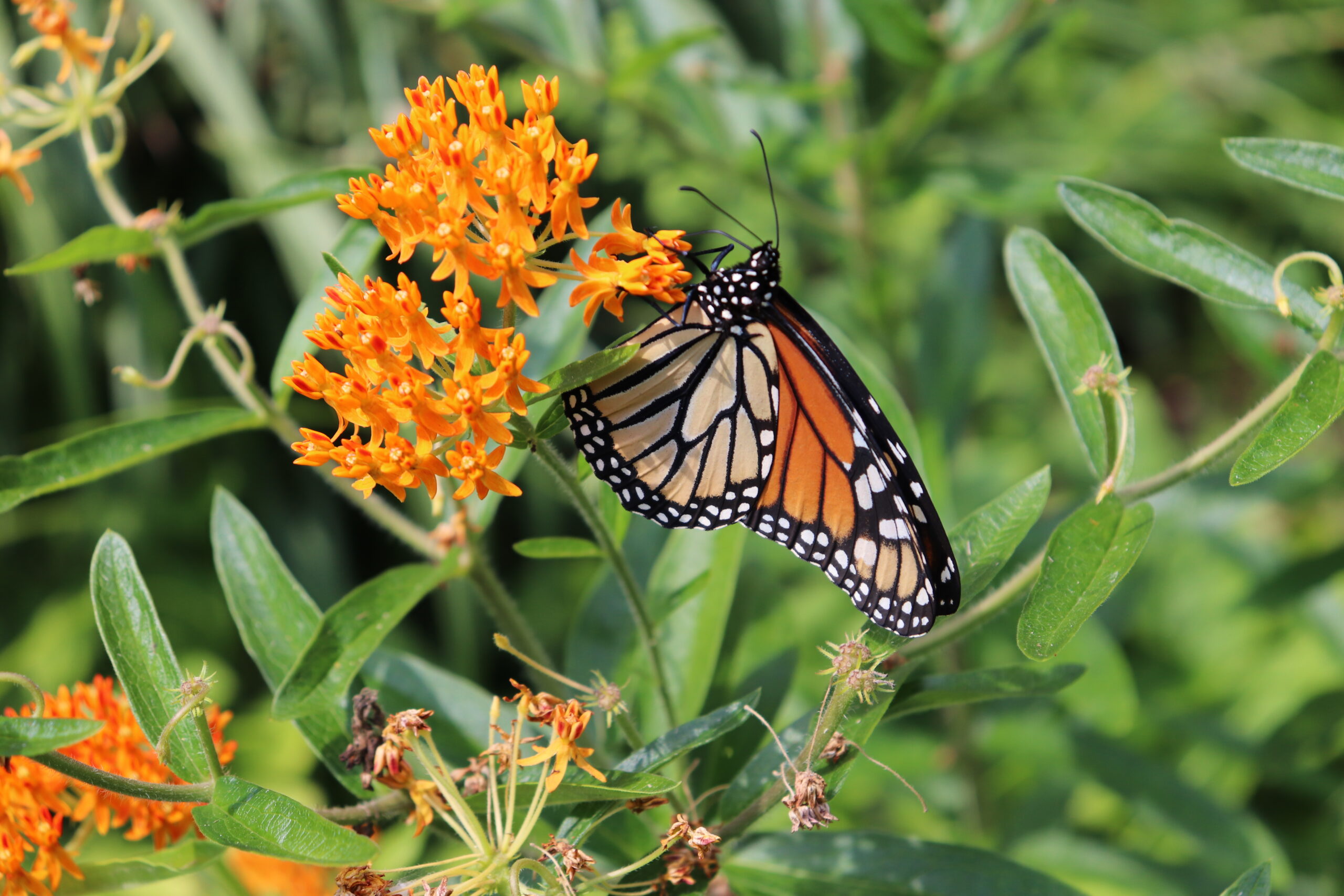 Watching a fox hunt…
Seeing a Goldfinch forage on a seed head is one other tiny pleasure on a summer's day.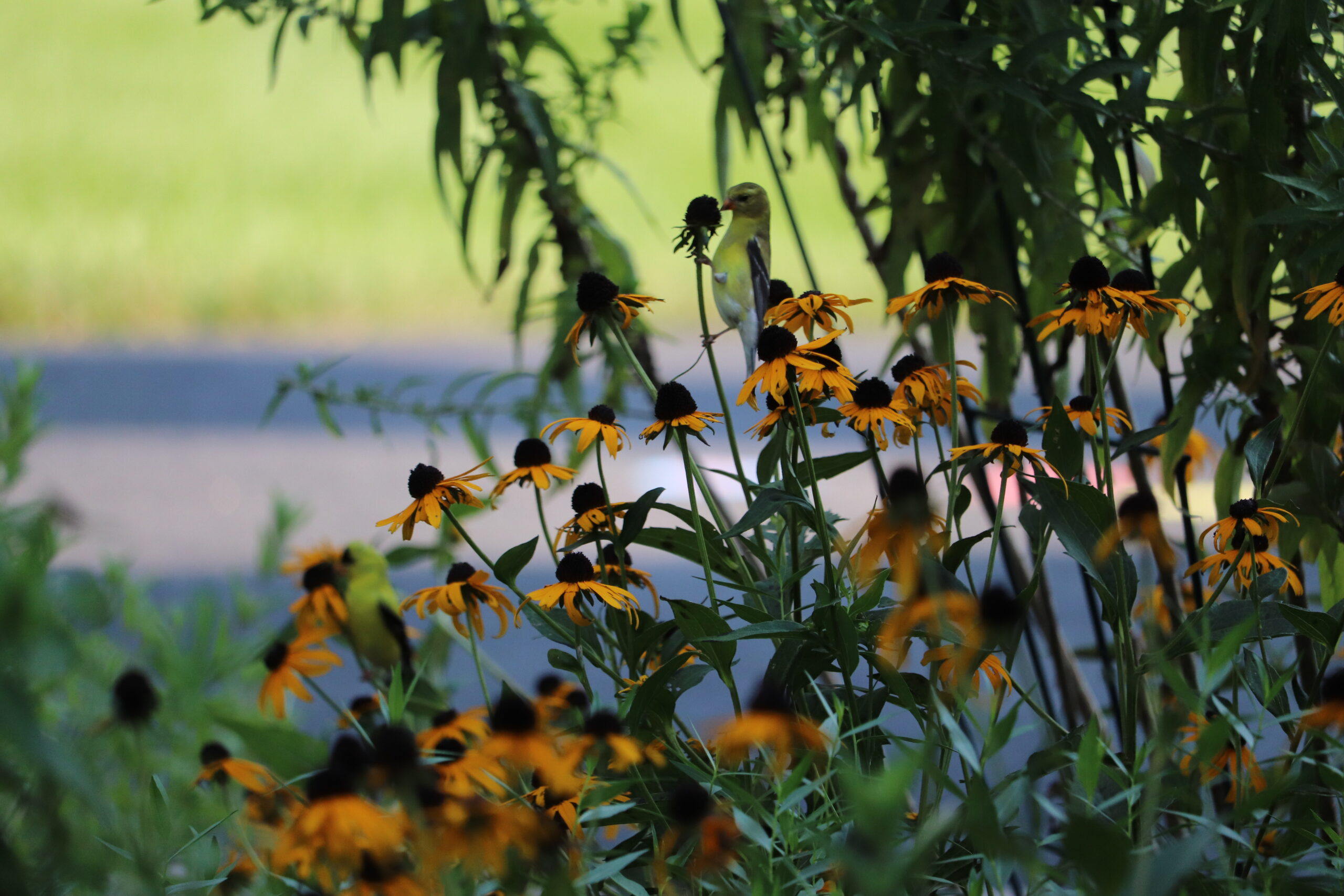 Native plants are something I only recently learned about, and it was mostly in part to learning a little bit here and there. It was a process, and I am still learning today! And yes, you will begin to notice that a lot of native plants have the word "weed" in them. But they are still beautiful, aren't they? And remember,
Weeds are flowers too, once you get to know them…

–A.A. Milne
Native Plants Weave a Story…
There is no denying that the birds, bees, foxes, caterpillars and everything big and small in between were here first. It will be our own undoing if we can't figure out a way to live among them without destroying everything that they need. 
From winter through autumn, the HABITAT I am providing to them provides endless enjoyment to me as the journey unfolds like the pages of a good book that tells a new story every time I pick it up. The plants, animals, and insects are the characters. I am the lucky reader.
My story will end if I don't help it along, and planting native plants is the best way to ensure the characters keep coming, and and that the story keeps unfolding every day.
Any garden, big or small, has the ability to help provide a habitat. Let's keep the pages turning don't you agree??
Please check out Bowman's Hill Nursery and Wild Ridge Plants and the D&R Greenway Native Plant sale, they have excellent native plants for sale.
*As an Amazon Associate I earn from qualifying purchases.